Patient's Share Their Stories
Submit your testimonial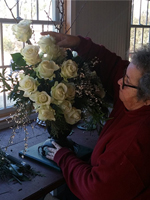 As a result of a car accident, I was left with a shoulder that refused to act like it was supposed to.
I experienced virtually no pain and discomfort was minimal after shoulder replacement. I am as good as new. In Dr. Griffin, I found a physician with an extraordinary combination of professionalism, knowledge, confidence, compassion and skill. The care Dr. Griffin afforded me was over and above. I am so very thankful I landed in his practice. I now enjoy many hours of doing what I am most passionate about and that is being a floral designer and gardener.
- Cynthia Downing, Eastern Shore VA
When my time comes for surgery, he will be my guy for sure!
Dr. Griffin, your staff, Tiffany and Michael, a great team to have on ones side.
Thank you Dr. Griffin and your amazing staff for all the hard work you do.
Dr. Griffin did a fabulous job.
Academic brilliance, technical expertise, and a guy you can talk to.
I could not have asked for a more caring doctor than Dr. Griffin.
Dr. Griffin was so professional and caring
Dr. Griffin went above and beyond what I could have ever expected after arriving to Alaska.
I could not be happier with the results. Great job, Doc!
Dr. Griffin is amazing and I would Highly recommend him!
ABSOLUTELY, POSITIVELY recommend Dr. Griffin for shoulder care and surgery.
I am so thankful for Dr. Griffin and therapy.
Dr. Griffin's professionalism and expertise is greatly appreciated
Dr. Justin Griffin is my kind of doctor
Dr. Griffin is a dedicated doctor
Dr. Griffin addressed all of my concerns
We couldn't have found a more competent, skilled, and expert Surgeon
Dr. Griffin was amazing
Dr. Griffin was phenomenal! Extremely patient and helpful
Dr. Griffin is the most approachable physician I have met
Dr. Griffin miraculously relieved 85% of the discomfort
Dr Griffin is a very kind person
Dr. Griffin was totally professional and an excellent surgeon
Dr. Griffin is an awesome doctor
Dr. Griffin explained the injury to my shoulder in layman's terms
Dr. Griffiin, has a courteous demeanor and a good bedside manner
Staff was professional, polite and prompt
The facility was clean, the staff professional, and the wait time very short
Dr. Griffin could not have been more courteous or professional